What's been happening at Ficus and Fig Design?
Hello friends!
I know a lot of you are so busy, especially when you're organising a wedding, so each month I'll give you a rundown of what you might have missed on our Instagram and other good news we'd want to share with you! Click on the below photos to view them on our Insta feed!
Latest on Instagram
We're sending our best wishes to lovely clients Emily and Michael who recently married! Can't go wrong with such a classic invitation design. Their black and white monotone wedding invitation was paired with blush envelopes and some subtle pink florals. What a stunning combo!
This month we've been busy with photography of our new designs - you may have seen a few new professional photos floating around our website! Our 'Cool Grey' invitation is shown below - and is perfect for those couples who aren't quite as obsessed with flowers as we are!
One of the latest growing trends we're seeing is the colourful, 'fiesta' style wedding (and we've got a Fiesta Wedding Pinterest Board full of amazing images and wedspo to inspire you!) Check out these invitations below from our recent collaboration photoshoot at the lovely Byron Bay venue, Forget Me Not Weddings, with photos taken by Mazzer Photographics. (Shoutout to that epic cake in the background, courtesy of local legend, Eat Sweet Handmade Cakes!)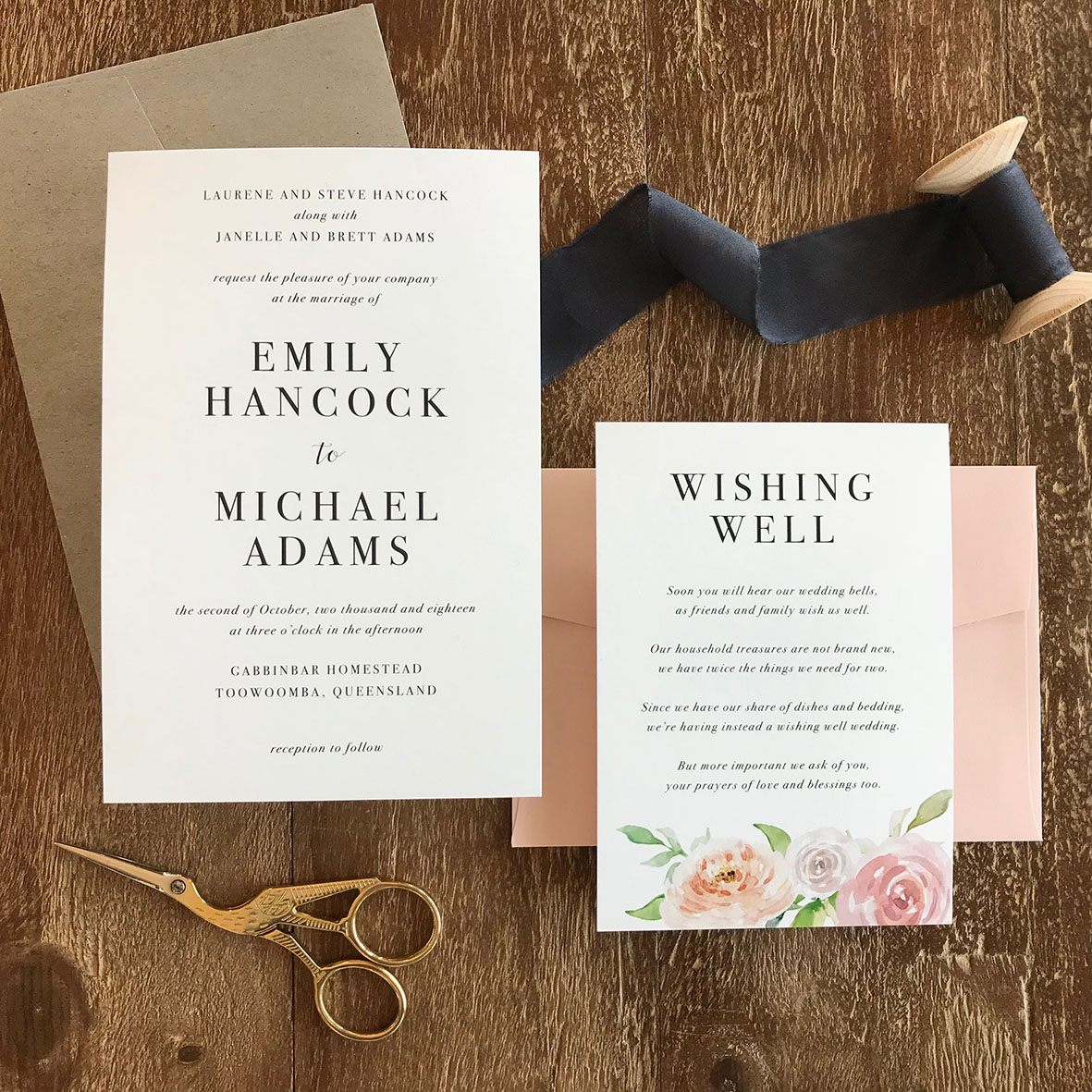 Also popular on our Instagram lately: the very on-trend 'Greenery and Gold' theme! This month we've worked on a number of designs for brides and birthday celebrations that feature beautiful native greenery with geometric, gold foil accents! We are in LOVE. Give us all the botanicals.
Side note: Did you know we can create custom maps for your event?
A very important tidbit for all of you newly engaged ladies out there - we have just RESTOCKED our gorgeous, foiled Bridesmaid Proposal Cards which are ready to order. Just pick your number required and we'll pop them in the mail for you, with FREE shipping Australia-wide! Shown below is our top seller.
Don't Forget Our Newsletter
Make sure you sign up for our newsletter to hear all about our newest designs - it's perfect if you need a dose of inspiration! We'll also have details of ordering times and delivery dates which can become a little slower with Christmas just around the corner, plus all of the exciting news we share with you on a regular basis! The end of the year is FLYING by - hope everyone is enjoying springtime!